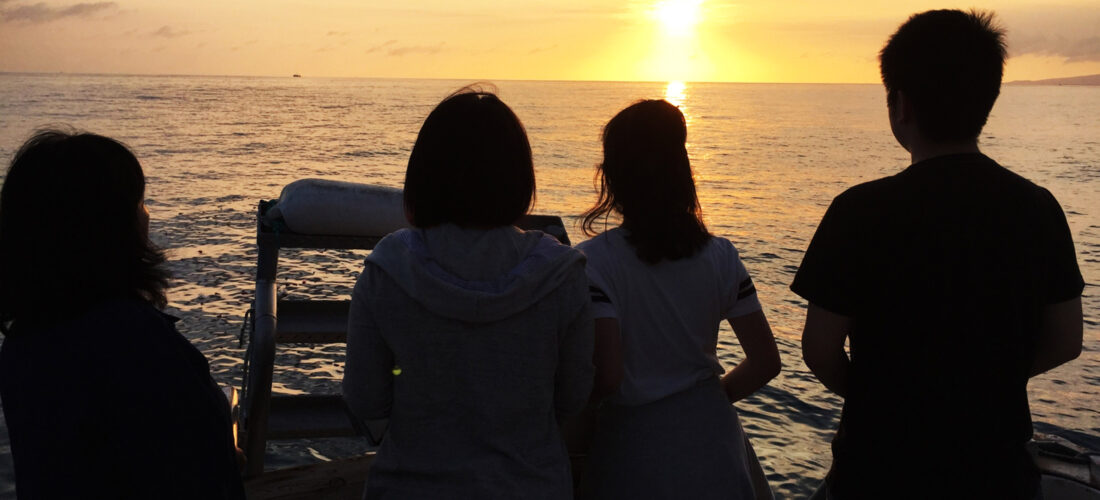 Snorkeling, cruising and spreading your loved ones ashes.
There are many ways to fully utilize Breeze Hawaii's privately owned boat.
Charter our boat for yourself or with a group, friends and family. Take a look at the ways you can utilize our boats in the following examples.
Feel free to contact us with any questions.

●Snorkeling
For Hawaii tour planners for individual groups, clubs and more. Please feel free to utilize our charter boat according to your level and schedule without collaborating with other, nonaffiliate groups. A Breeze Hawaii instructor will accompany you.

●Sunset Cruising
For those who want a memorable experience with their loved ones. Enjoy the beautiful Oahu sunset and the unique Hawaiian scenery from the ocean, like Waikiki hotels and Diamond Head.

●Ocean Ash Scattering
For families entrusted with the wish to lay their loved ones to rest in Hawaii, or for those who want to honor the memory of their departed loved ones in a peaceful, cherished location. We are not a funeral home and do not host elaborate ceremonies. Instead, we assist you in taking your recently departed loved one to a place brimming with their treasured memories. As a token of remembrance, we provide a few plumeria flowers, details about the latitude and longitude of the scattering point, and and a heartfelt commemorative photo.
Itinerary
①

Hotel Pick Up

Pick up is only available from Waikiki and Ala moana
※Pick-up from Kahala is available for an additional fee
(Round Trip $20/group, one way $10/group)
②

Arrive at Kewalo Harbor

We will go over the itinerary for the day. There is also a restroom at the port.
③

Port Departure

1 hour charter bookings= 1 hour from departure to return.
④

Return to Port
⑤

Hotel Drop Off

※The estimated time required for steps 1-5 is 2.5 hours for a 1-hour charter, 3.5 hours for a 2-hour charter, and 4.5 hours for a 3-hour charter.
※The above is just an example.
Details
Cancellation Policies
The following cancellation fees will apply:
Cancellations made after 1pm (Hawaii time) 5 days before participation.... 50%
Cancellations or no shows after 1pm (Hawaii time) the day before participation.... 100%

・Please note that if you cancel due to personal reasons (unwell, inconvenient scheduling, etc) during the course of the activity (i.e. after the course has started), there will be no refunds.
Included in the Tour
The following is included in all plans. Please check the activity details for what is included in each plan.
・Transportation
・Private boat according to the number of participants
・1 captain
・State Tax
Not Included in the Tour
Children between the ages of 0-9 must bring a life jacket.
Optional Add-ons
Please note that in addition to the boat charter fee, if your group has 7 or more people, there will be an additional charge of $50 per extra person.
FAQ
Q

Where does the boat depart from?

We depart from Kewalo Harbor, close to Waikiki and Ala Moana.
Q

Please tell me the size, capacity, and equipment of the boat.

Depending on the number of customers, we mainly use the following two boats.

1. Musashi
Location
・ Kewalo Harbor near Waikiki
・Total Length 30ft. 20 passengers can be accommodated according to the US Coast Guard, but we often operate with 15 or fewer passengers.
・Wide boat suitable for diving
・Thanks to our roof, you can stay comfortably even in the strong Hawaiian sun.

2. Melekai
Location
・Kewalo Harbor near Waikiki

Point
・Total length is 32ft. 30 passengers can be accommodated according to the US Coast Guard.
・A stable catamaran
・Equipped with a roof and restroom.
Q

Can I make a reservation last minute?

Private tours/charters can be reserved online until 3:00 pm, 5 days prior to the tour. If you've missed the online reservation cutoff, please contact us (calling is recommended for last-minute inquiries).
*As we have regular tour reservations, chartering may be difficult to book. We recommend making reservations as early as possible.
Q

I would like to charter a boat for more than 4 hours.

Depending on availability, please feel free to contact us.
Q

Will the event be held even if it rains?

The tour may be changed or canceled due to strong winds or bad weather. If the event is canceled at our discretion, a full refund will be given. Please note that we cannot provide refunds due to customer circumstances.
Q

Can I go fishing on a boat charter?

It is possible if you bring a set of fishing equipment and if the fishing point is off the coast of Waikiki. Please contact us for your desired location. It is possible if you bring a set of fishing equipment and if the fishing point is off the coast of Waikiki. Please contact us for your desired location.
Rates
| Course | Fee |
| --- | --- |
| 1 Hour Charter | $575 |
| 2 Hour Charter | $785 |
| 3 Hour Charter | $1,047 |
| Sunset Cruising | Above + $100/group |